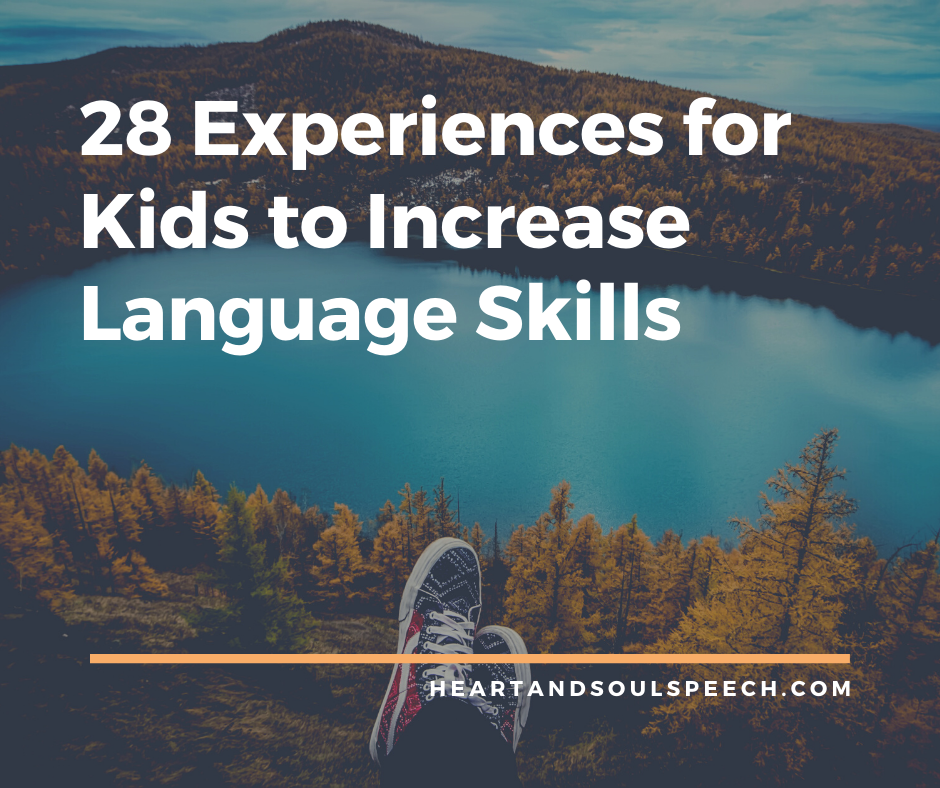 It's no surprise as a pediatric speech-language pathologist, I try to find opportunities to build language everywhere I go. Introducing our children to new experiences help expand those skills, and keep it fun! Just by talking and reading to children throughout our daily routines, we expose our young children to millions of words daily!
Children need repeated exposures to new vocabulary in a variety of contexts to add the word to their expressive and receptive repertoires. A child needs both expressive language skills (using words) as well as receptive language skills (understanding words) in order to have successful communication.
Research indicates the average child needs 12-15 exposures to learn a new vocabulary word. Children with language impairments need anywhere from 40-100 exposures before learning and remembering a new word.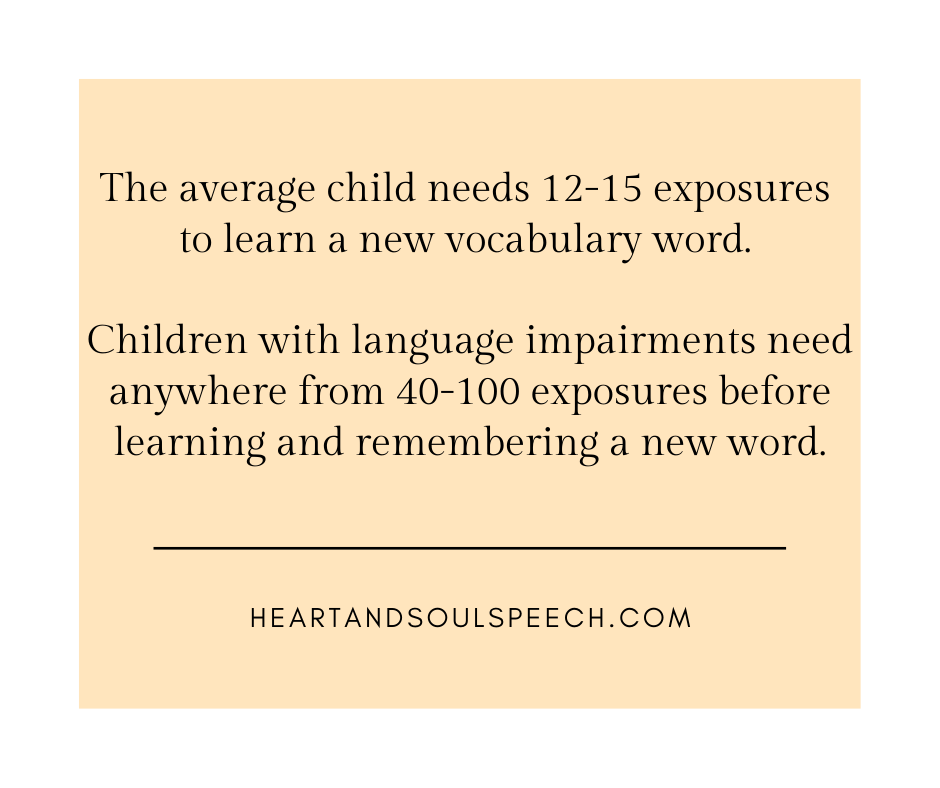 For me personally, my daily routine can get a little mundane. It seems like my vocabulary gets redundant by talking about doing the same things every day. There's only so much I can say about laundry, right?
Try some new experiences!
New experiences – especially fun ones – increase a child's exposure to new vocabulary words and understanding of language concepts. Also, anticipating, planning ahead, and talking about the experience after, keeps kids talking even more!
Here's a list of 28 experiences for any budget that can increase a child's language and social skills, and give you something new to talk about together!
Cooking
Cooking together with children is one of my favorite things to do. Yes, it can get messy, but it's a great way to include children of all ages and abilities, and introduce new vocabulary. Following directions for your favorite treat is an easy target. You can even check to see if there's a child-friendly cooking class in your area.
Swimming
I'm amazed at how water can excite even a timid child. Splashing around, making bubbles, pouring, and spilling gets kids talking every time. Play with the backyard hose, go to the local pool, or splash in the bathtub! Swim lessons can also provide a social group for your child to practice their new language skills.
Music
Music is another gateway to language. The rhythm and rhyme of songs, as well as movement can help children expand their language skills. Turn up the radio, have a dance party, or make up a silly song. Pick up an instrument or make one at home. Maybe even consider searching for music lessons for your child to learn a new instrument.
Arcade
Lots of kids love video games, right? Arcades are popping back up! Have your child teach you how to play a game using words to describe what to do. It's likely you will learn something new!
Horse riding
Something magical happens when children and animals get together. Head out to a local farm or find horseback riding lessons in your area. Giving a horse commands is great for expanding verbs.
Pottery making
We learn best when using our senses, and making pottery will give your child hands-on feedback to support their language learning. Describing adjectives are good targets here– wet, smooth, silky, messy, squishy, wavy, tall, etc.
Yoga
Ok, I know you're not supposed to talk during yoga, but attention and listening skills are a big part of language and communication! A child can practice following directions and self-regulation while doing yoga or stretches.
Karate classes
Another way to practice self-regulation, turn-taking, and listening skills is to learn a little karate! Verbs are also good targets here – kick, hit, spin, wait, stop, go, watch, etc.
Fishing
Head out to some water and bring your fishin' pole. This could be another activity for children working on following directions. If you have my luck, chances are you may share more stories than catching fish!
Hiking/nature walks
Another one of my favorite things to do with kids is just get outside! Changing up their environment opens up so many opportunities for new language. Talking about what you see, hear, smell, feel easily targets adjectives.
Dance lessons
There's a whole world of new vocabulary in dance, and we know movement helps kids learn! Verbs, following directions, and imitation are good targets here.
Art classes
Let your child foster their creativity by making something new. Their imagination expressed through art is a great way to open up new conversations.
Camping
Following directions and sequencing are important when camping. Most importantly, what goes first – the graham cracker, chocolate, or the marshmallow?
Museum
Whether it's the children's museum, science, history, or art, there's bound to be some new experiences there. I love hearing what children think about art!
Zoo
Describe the animals and answer questions such as what they eat and where they live. Have your child teach you everything they know about their favorite one!
Sports events
Whether watching sports or participating in one, there's lots to talk about! A team sport may be good for children working on social skills. Verbs are also a great target here.
Gymnastics
Similar to #11 above, movement can unlock the door to language. Sequencing is also an important part of language – anyone else learn to cartwheel by saying "Hand, hand, foot, foot?"
Train ride
Our local park has a train that runs through it, and it's a great experience for kids! Talking to the train conductor, counting the train cars to the caboose, and playing "I Spy" on our ride are our favorites.
Local festivals or fairs
I don't care what they are celebrating, experiences at festivals and fairs are FUN! There's so much to see and do…and eat!
Theme park
Even for your less adventuresome kiddos, theme parks have wonderful vocabulary opportunities. Riding the rollercoaster up and down, and the Ferris wheel around and around may be my favorite way to learn prepositions.
Aquarium
Exploring the underwater world up close is one of the most engaging ways to learn new vocabulary. Describe the colorful fish and talk about categories of different underwater animals.
Waterpark
Similar to swimming, but an over the top experience! Talking about the big waterslide and going around the lazy river is so much fun.
Arboretum/Botanical Garden
Expose your child to new plants, flowers, and trees. Learn about how things grow, categorize the plants, and describe what you see.
Trampoline park/Rock Climbing
Kids love these places! Why not get them talking about it? Verbs, turn-taking, and sequencing are good to target here.
Farmer's market
We love going to see what at the local farmer's market – there's always new experiences to find! The farm-fresh eggs, sticky sweet honey, and vibrant blooming flowers are conversation starters.
Bowling
Bowling alleys have become so fancy now! Following directions, sequencing the perfect roll, and counting pins are good ways to build language.
Theater or performing arts center
Story-telling is an essential skill for strong communication. Next time you snag tickets to the show, get an extra for your little one! Have them re-tell the story to you when it's done.
Volunteer
Find a child-friendly opportunity to volunteer together, like a community garden or food pantry. Your child will likely learn something new and practice life skills important to language and communication.
 What experience will you try together? Let me know!
If you want more – here's a list of more strategies to help children talk!