10 Tips for Choosing Toys for Speech & Language Development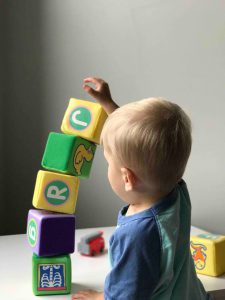 Everyone wants to know what are the best toys out there for children. With so many choices available, it's easy to just buy what you see in the store.
BUT lucky for you – you don't need fancy, expensive, trendy toys to build speech and language!
As a speech-language pathologist working in the homes of families, I see so many of the "hottest" toys being played with for a couple of weeks and then tossed aside for something else. Even my own home is overflowing with way too many! As parents, we want to give our children the "best," but often that doesn't provide opportunities for high-quality language and play development.
If you're overwhelmed with all the toys on the market – like me – and don't know where to start, take a look at how I choose toys for developing speech and language!
Back to the Basics
Like I mentioned before, children don't need fancy toys. They have a beautiful imagination that can turn any boring old sock into a magical flying unicorn. More traditional toys are typically basic and open-ended. Open-ended toys don't have a specific way to be played with – they allow freedom to use them in whatever adventure your little one creates!
Some ideas are: wooden blocks/Legos, transportation toys (cars, trucks, airplanes, trains, etc.), play kitchen and play food, farm set, doll house, Play Doh, dress up, etc.
Here's a list of my top 20 toys for language development!
Books ARE Toys!
The benefits of books and reading together are endless. You can find discounted books at places like your public library, TJ Maxx, Ross, Walmart, or online at thriftbooks.com
Leave the Batteries Behind
You can make a choice here – either take the batteries out if you feel it's a good open-ended toy OR skip the battery toy altogether. Save yourself some money on replacing the batteries and the headache of listening to talking toys!
The goal here is to have your child make the noises for the toys. When toys make noises, there is very little motivation for the child to make their own, resulting in silent play. Let your child decide what the toy should say! (If your child isn't talking yet, you get to be the star of the show and model language!)
"Educational!" –Probably Not
It's tough out there as parents. We now read all about the very convincing "educational" benefits on the toy package before deciding to buy. "Teaches shapes and colors!" "Promotes thinking and learning!" Unfortunately, most of these toys are heavily marketed by people who don't have specific training in child development. These toys are brightly colored, loud, and made of plastic. They are overly stimulating, which can overwhelm a child's sensory system and don't end up teaching anything but how to push buttons.
Be Minimal
Less really is beneficial for our children. There is fairly new research about "decision fatigue." If you've ever looked in your fridge full of food and thought "There's nothing to eat!" then you've had decision fatigue. The same happens to our children with too many choices. Especially with toys.
Check out my list of non-toys that you probably already have laying around the house!
Try Out A Toy Rotation
If you read #5 above and thought easier said than done! –try rotating you child's toys every 2-4 weeks. I do this in my own home, mostly because there just isn't enough room for everything! But I've also noticed with less toys to choose from, the more play is engaging and meaningful. I don't stay on a strict rotation routine, but rotate out when I feel like my child is bored or needs a new challenge. Give it a try for one month and let me know how it goes!
Be Intentional
Take a good look at your child and make a note of some of their favorite toys or things to do. What are they really into right now? Maybe your toddler is into climbing on furniture (like mine!) and would love an outdoor gym or indoor stepstool. A preschooler pointing out colors, shapes, and sizes may like lacing beads or playdoh cookie cutters. Let your child's developing skills be your gift guide.
Give Up the Gender Roles
Don't feel pressured to stick to trucks for boys and dolls for girls. We are missing out on great life skills if we limit our children to "gender-specific" toys. Lauren Spinner, a developmental psychologist says traditionally masculine toys can encourage visual and spatial skills, while traditionally feminine toys encourage communication and social skills. Kids can benefit from both!
Get Moving & Get Outside
Children learn best when they move –motor development and cognitive development happen in similar parts of the brain. Balls, push/pull toys, ride-on toys, tunnels, water tables, swings, shovels, bubbles, hulahoops – these are all great ideas for movement! You don't even have to buy outdoor toys if you have a park nearby!
Remember – the best toys are not "toys" at all!
We as parents sometimes forget that WE can be the most fun thing to play with in the house. Our kids don't need all the toys. Play tickle monster. Sing silly songs. Dance. Play finger games like Patty Cake or Itsy Bitsy Spider. Build a fort. Tell stories. Go on a nature walk together. Play hopscotch. Make music with pots and pans. Play with boxes. Play Hide-and-Seek.
Just spend time together and build language!
Check out a list of my top 20 toys for language development for specific toy recommendations!
What guidelines do you follow when choosing toys for your children? 
Related Articles:
Top 20 Toys for Language Development