Humans depend on connection with others, but it can be more difficult to stay connected during times of change. New transitions can be difficult for our children to process. Maybe it's moving to a new city, being apart from family, starting a new school, or having loved ones live far away. Thankfully, there are many ways to create close connection with others, despite physical distance. With a little creativity, the distance doesn't seem quite so far. 
Here's 8 ways to create connection while apart at any age:
1. Recorded Books
Have your loved ones record themselves reading a book so you can read together anytime. This could be a video or voice recording or you can buy a special book that actually saves the recording on the book itself. We videotaped grandparents and great-grandparents reading to our children as babies and they love watching it now they are older!
2. Video Chat
Almost any smart phone has the ability to video chat now. We have used Facetime, Snapchat, Facebook Messenger, and the Zoom app to regularly check in with friends and family. It has been a way to do crafts with friends, have a dinner party with grandparents, and even a dance party birthday celebration when we aren't able to get together in person.
3. Make a Picture Puzzle
My mother made us this picture puzzle when our kids were small, so we could start introducing them to their family. Just print a few pictures and paste them under the puzzle pieces. It's a sweet way to show children how much they are loved by so many people.
4. Send a care package
A simple note, homemade card, piece of art, or picture can really brighten a person's day. Drop it in the mail to let them know you're thinking about them.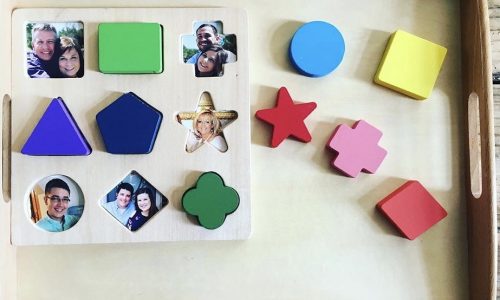 5. Round Robin Storytelling
One of my favorite exercises in English class was round robin storytelling. One person wrote a line or two and then passed it to the next person for their turn to add to the story. It was hilarious to read after everyone had contributed, and never ended the way I had imagined! You can do this with others by text, emails, or even video chat. The Marco Polo app would be a fun way to visually take turns making up stories too.
6. Make a Family Scrapbook
I love making family scrapbooks that help me remember all the wonderful times shared together. You can make your own if you feel crafty or customize a printed photo album online. These personalized board books are great baby gifts too!
7. Have a Pen Pal
Email is definitely quicker, but there's something special about writing a letter and sending it snail mail. Another option is to open up a Google Document and share with friends as a "living" journal with everyone's updates all in one place.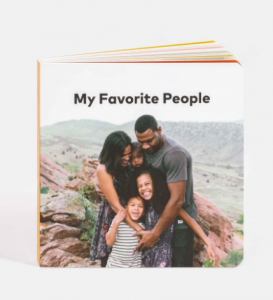 8. Virtual Game Night
Jump on video and play Pictionary, charades, or 20 questions with family and friends! Think back to the old road trip car games like Would you Rather?, the Alphabet game, or Mad Libs. Younger children can play I Spy or Show and Tell. If you use the Zoom app, there's many features that can make game night fun too.
These simple activities can help us create connection and feel closer together when we are far apart. 
Which ones will you try next?
Related Articles:
Supporting Children Through Change