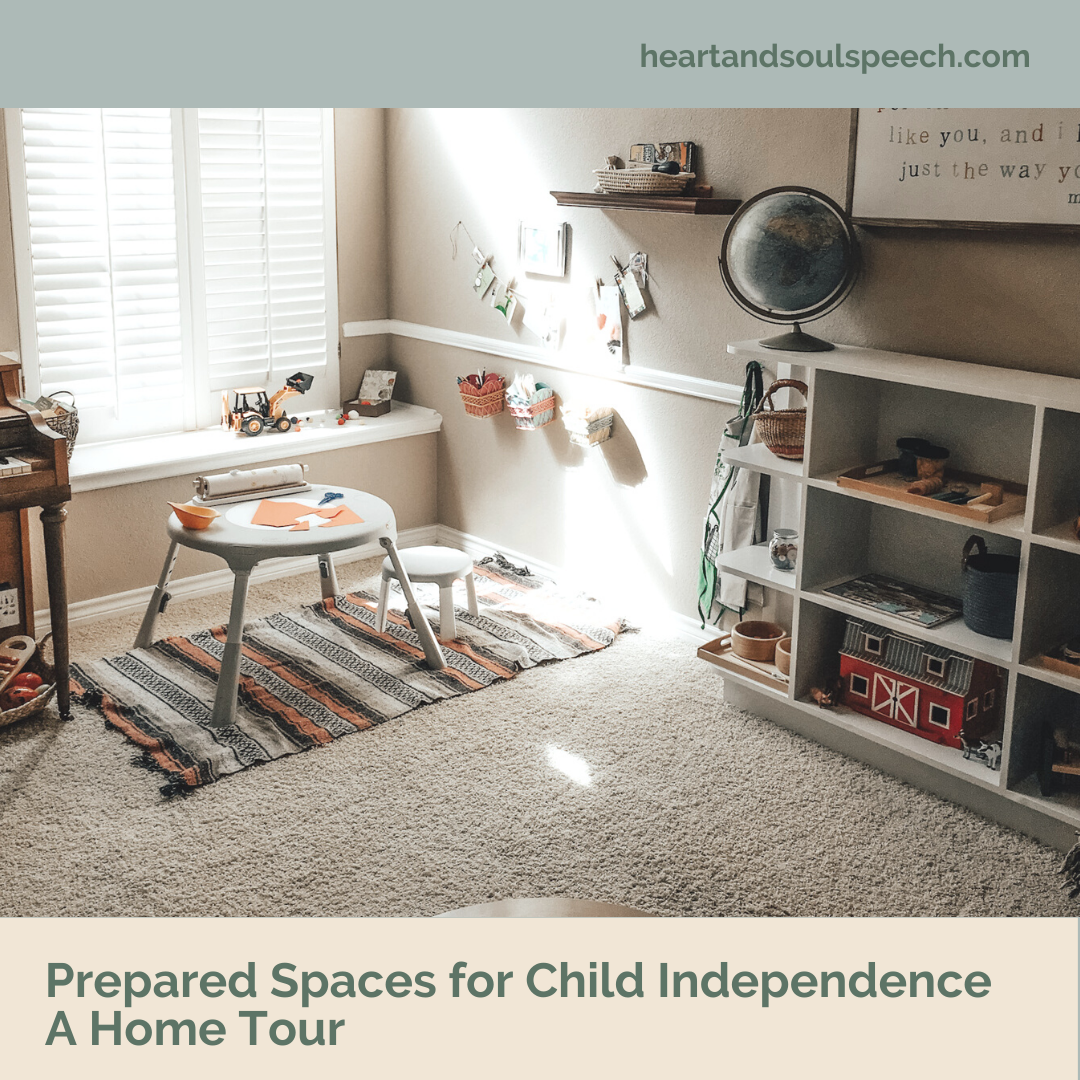 A child's home sets the foundation for healthy social-emotional development, language and literacy learning, and overall well-being. Having accessible and inviting spaces in the child's home fosters increased independence, confidence, and opportunities for connection.
As a pediatric speech-language pathologist, I help families prepare spaces in their home to promote language during daily routines. This leads to more positive interactions and increased cooperation. Often, there are disruptions to a family's daily routines when the space isn't prepared for a child's independence. The child needs help to complete basic life skills because he does not have access to be able to complete the task independently. The earlier we prepare the space at home and guide our children through our desired daily routines, the more autonomy our children will have later.
As part of the Communication with Connection philosophy we acknowledge our children more like our roommates, sharing the spaces of our homes with us. We respect our children as a part of the family that lives and learns at home. Therefore, we modify our home to include them and invite them to participate in the family's daily routines, and prepare the space in a way that works for both them and us.
Home Tour of Prepared Spaces for Independence
I'm excited to be taking you on a home tour of the spaces we've prepared for our toddler and newborn! You'll notice each of the spaces offer opportunities for independence based on their abilities and needs.
You can check out videos of the spaces pictured below on my Instagram highlights!
Please note, this is only a guide to offer ideas of simple changes that can increase your child's abilities. Your family and home is unique. When preparing a space in your home, the needs and abilities of your own children should be considered. Spaces should be individualized based on your family's routines, and as your child becomes more independent, your home will change to keep meeting their new needs.
I have added links to products we use or similar ones available for your convenience; although most we have found second-hand or made ourselves. Please know you do not have to purchase anything new to be successful in preparing your home. I am not affiliated with any of the products included here.
Entryway
Before we go outside, this is where our toddler puts on his socks and shoes. When we come back inside, it all goes back right here. No more scrambling to find it next time! We added command strip hooks to the wall and baskets to organize the socks and shoes.  We always keep a few options for socks, shoes, and coats he can choose from. To offer more autonomy, I cut up a circle sticker and placed one half in each shoe, so he can learn which shoe goes on which foot.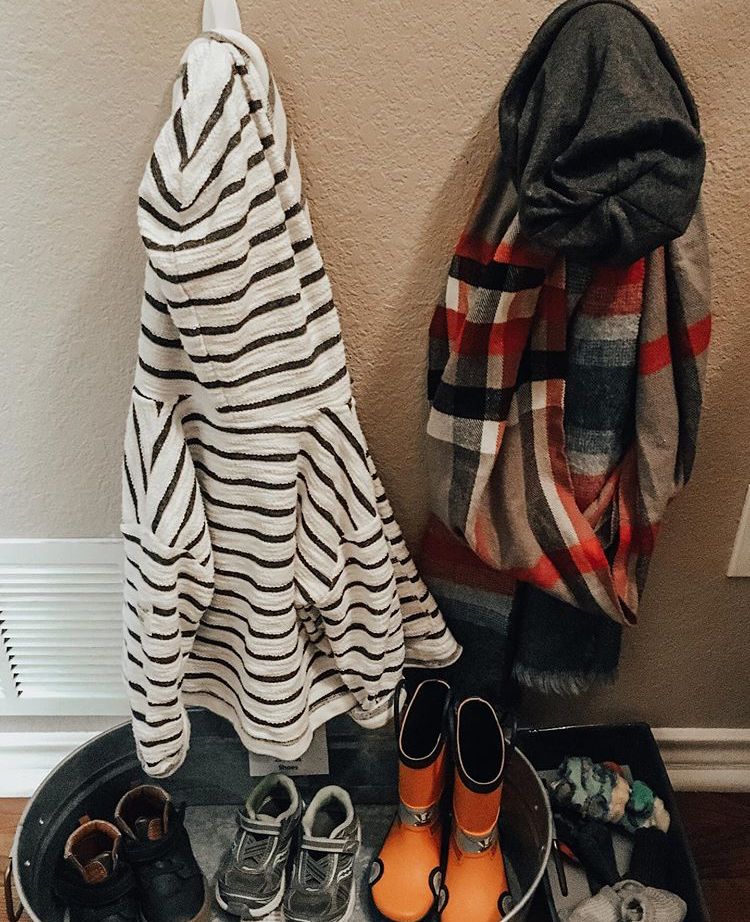 Toddler Bedroom
It's been helpful to keep the kid's bedrooms minimalistic, not only for safety reasons, but also for rest. I noticed my toddler would spend his nap time playing when there was too many toys in his room. Now that we switched to only books and quiet pretend play toys, he gets much more sleep! I want the bedroom to be a calm place for my children to rest and recharge.
We switched to a low toddler bed around 18 months to increase his independence. He doesn't always sleep in it (he actually prefers the floor), but he loves to show the bed to visitors! He also helps make his bed most days by putting the blanket and pillow on top.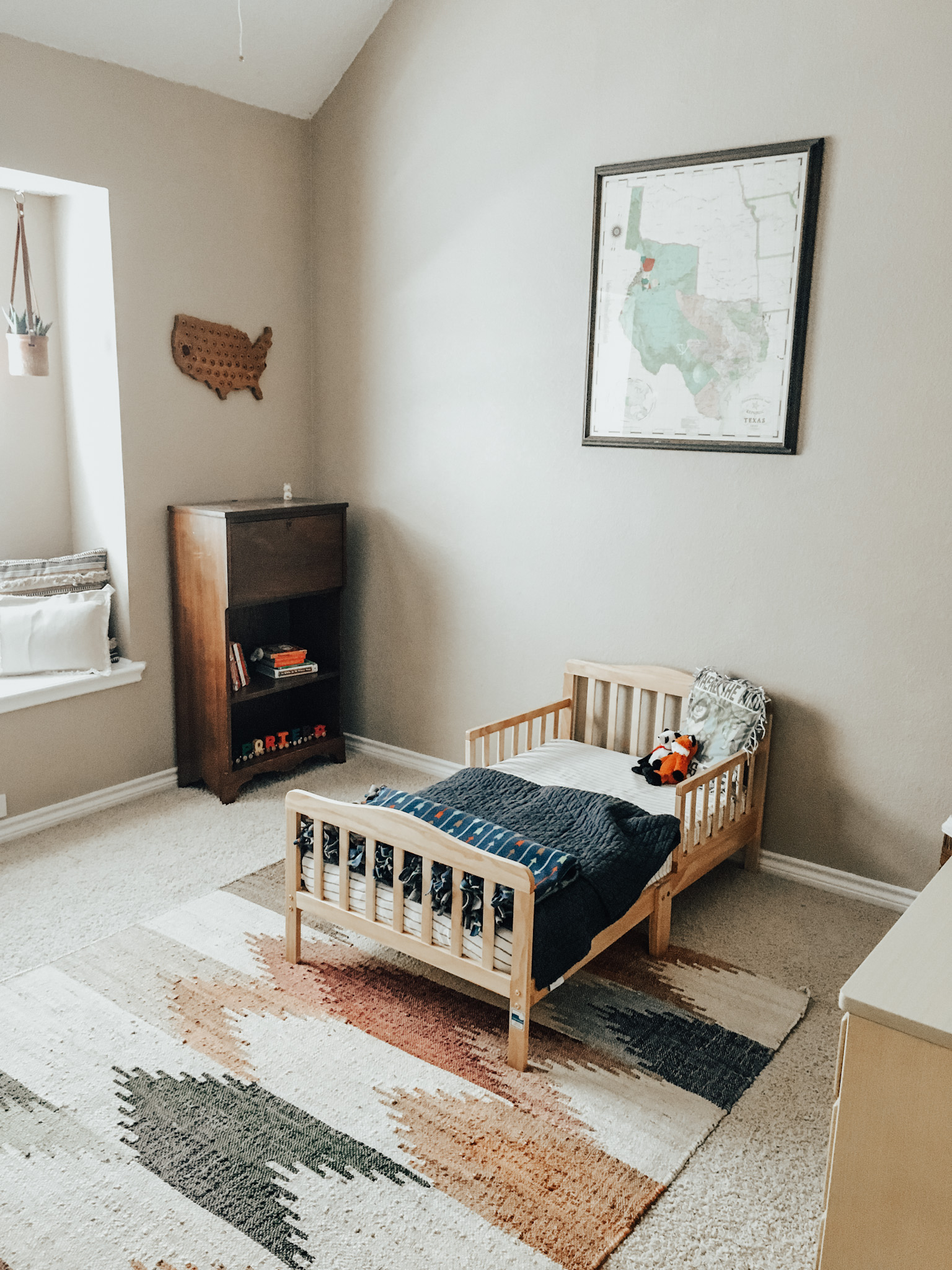 The forward-facing bookshelves on the wall are inviting to children as they can see the covers of books, not just the spine. I will rotate out the books and toys every once in a while, but overall this space is predictable and peaceful for him. He spends lots of time in his small chair reading. We also have a larger chair in the other corner for reading together at bedtime.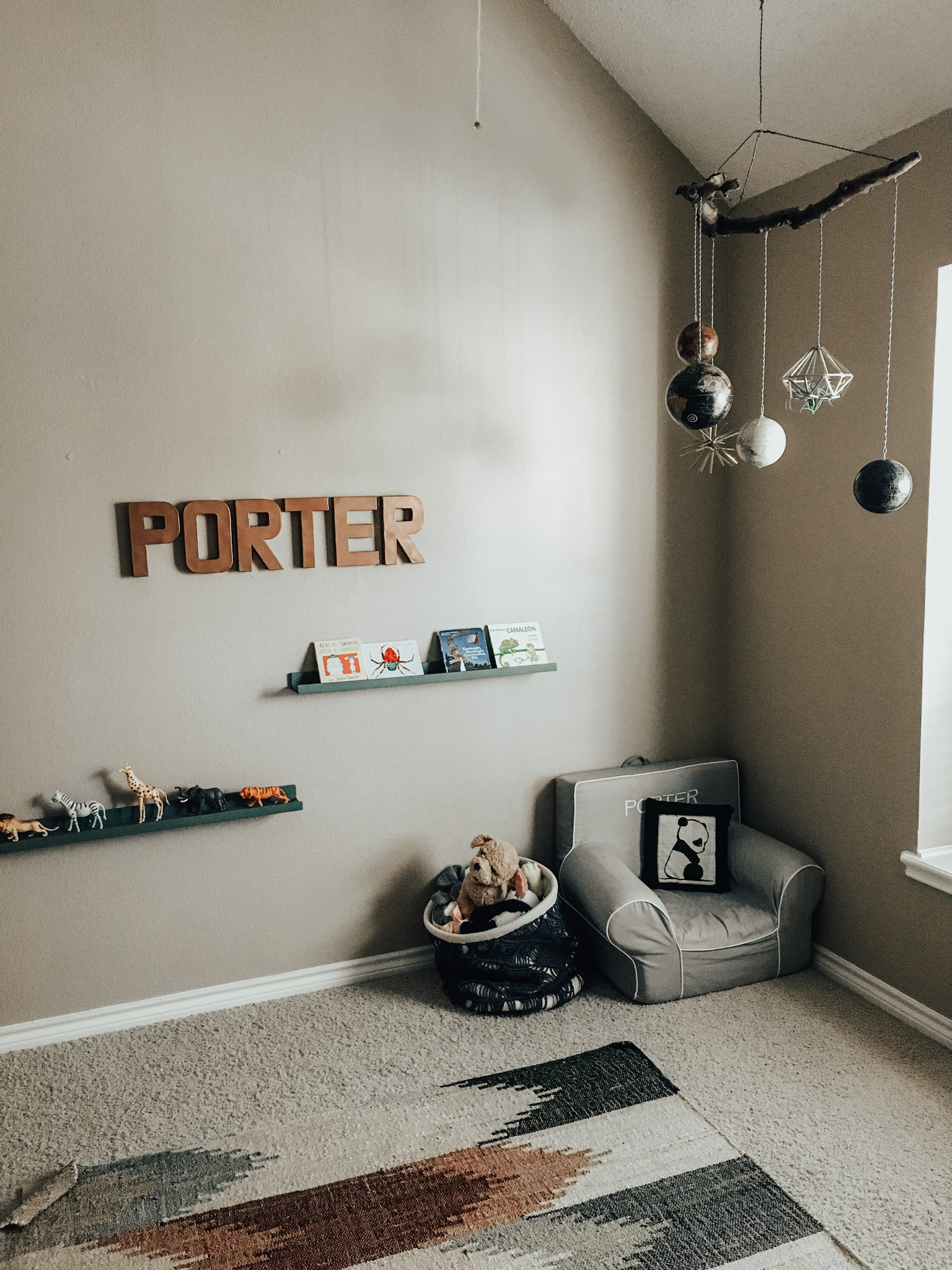 (Please remember to anchor furniture to the wall if you choose to have in a child's room for safety reasons.)
In the closet, we keep clothes hung on the top rack, and I offer 3-5 choices on the bottom rack for him to choose throughout the week. We used ribbon and a shower rod to make the lower rack. His dirty clothes basket is also there for him to clean up after he dresses. The other side of the closet is our storage for books and toy rotation.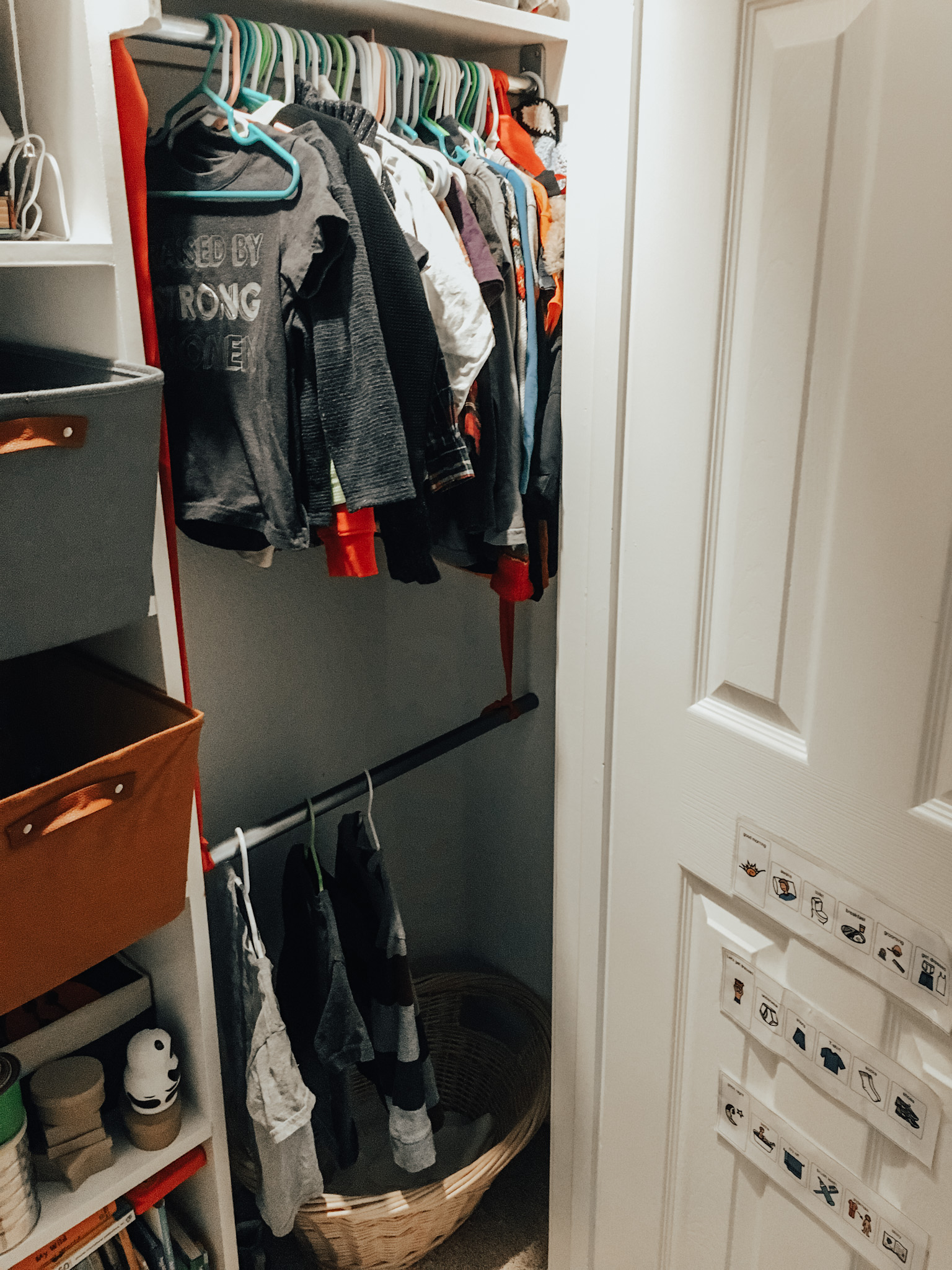 On the inside of his closet door, I posted these visual schedules for our morning, dressing, and bedtime routines. (Get them free here) If you haven't tried visual schedules for your kids, I highly recommend it! It's a game changer for child independence. My son doesn't have to ask for my help knowing what's next or remember to follow all the directions because he can reference the routine by himself just looking at the pictures. These visual schedules are also great pre-literacy practice as they move from left to right, like the way we read in English.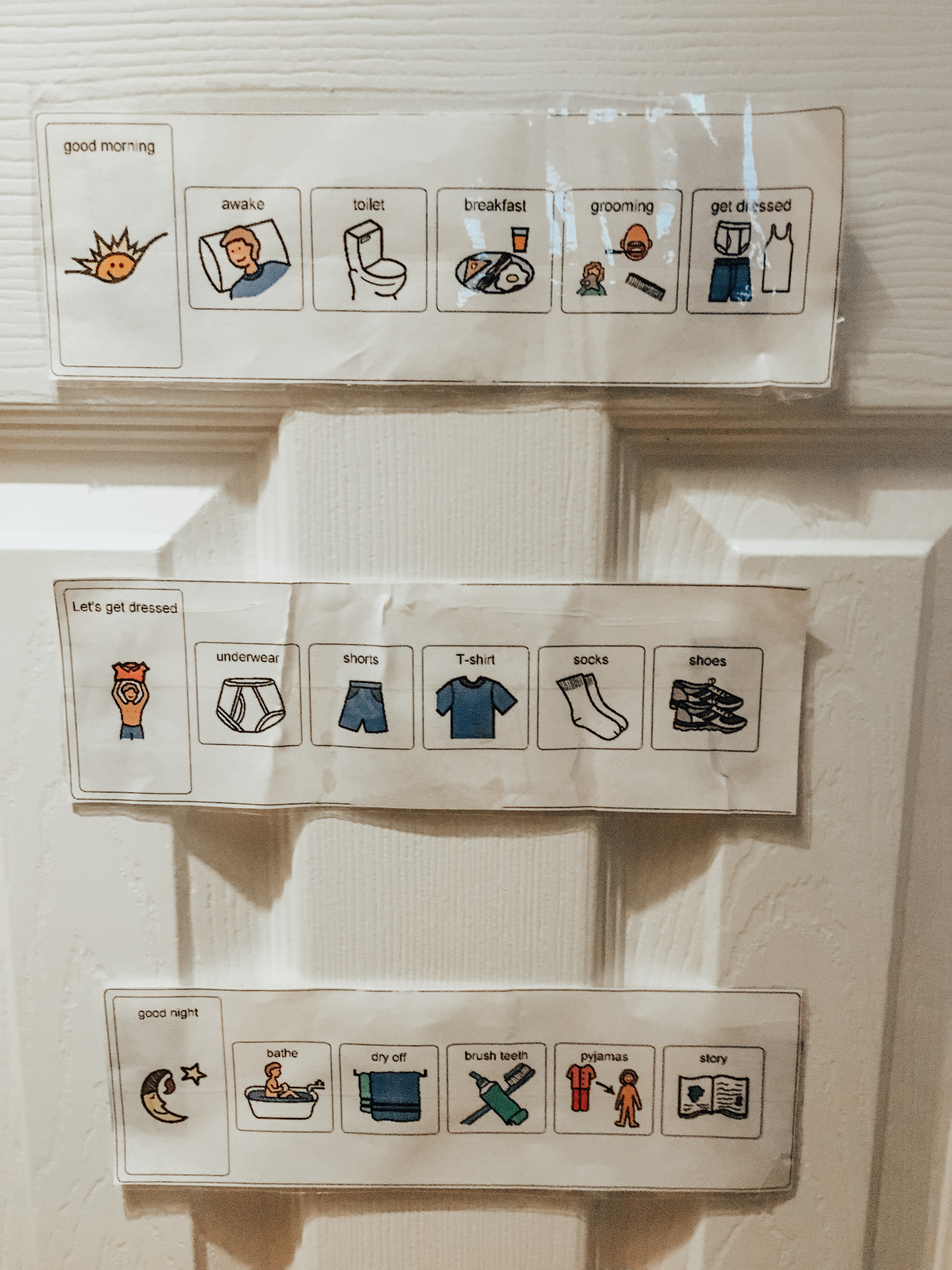 Toddler Bathroom
There are visual schedules in the bathroom as well for brushing teeth, toileting, and washing hands. Again, it has made a huge difference in his ability to complete these routines without much help. We added a fold-up stool, hung a low towel, and made a sink extender from an old lotion bottle. A child-sized nail brush helps significantly after playing in the dirt! We use a toilet insert ring seat for potty practice and keep wipes, books, and extra clothes nearby.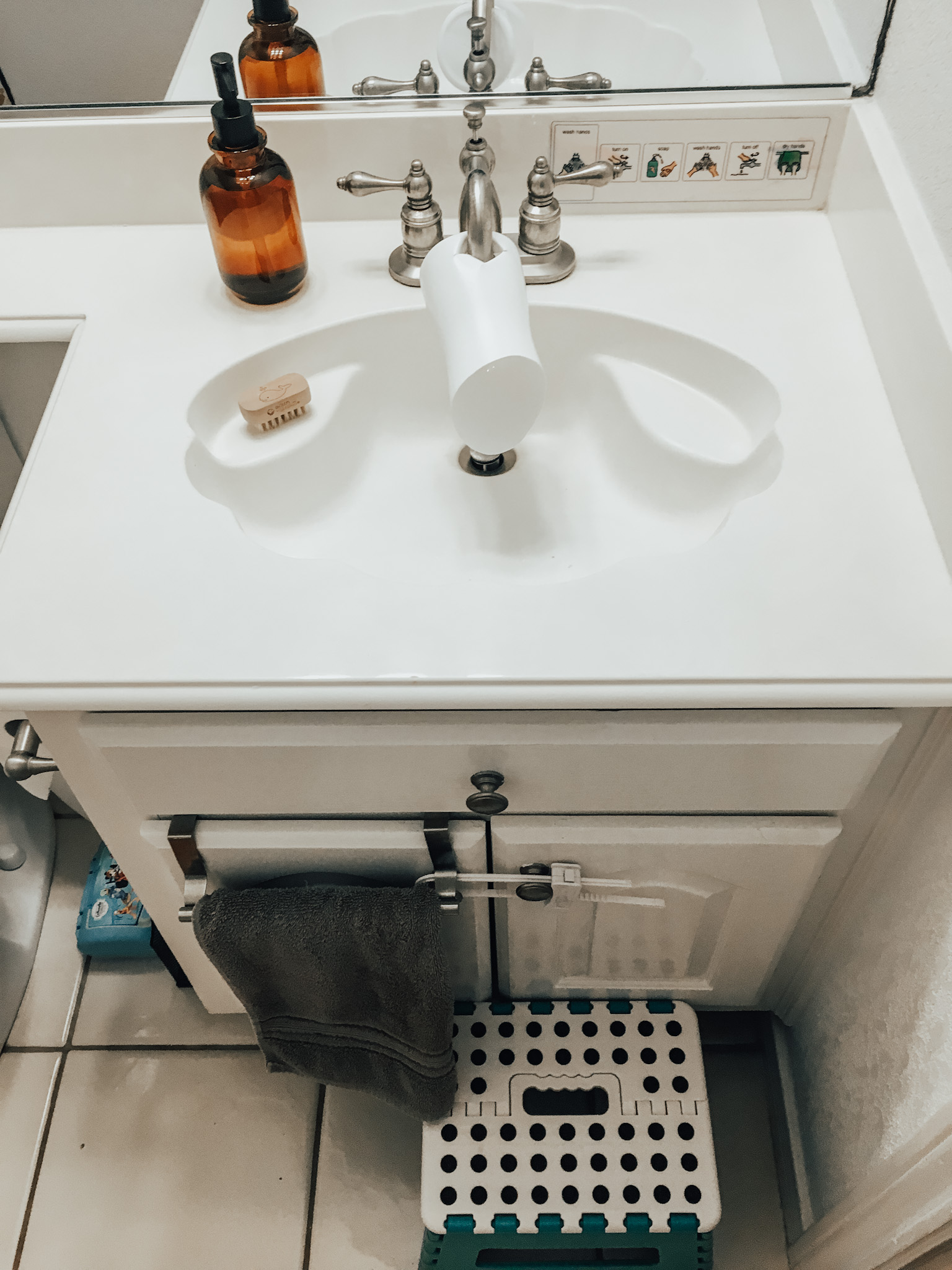 We hung a vertical mirror on the back of the door for him to use when brushing his teeth. On a low shelf, we keep a small tub for his toothbrush, toothpaste, brushes, and washcloths. He can access these without help and keeps them organized in this space for a tidy bathroom.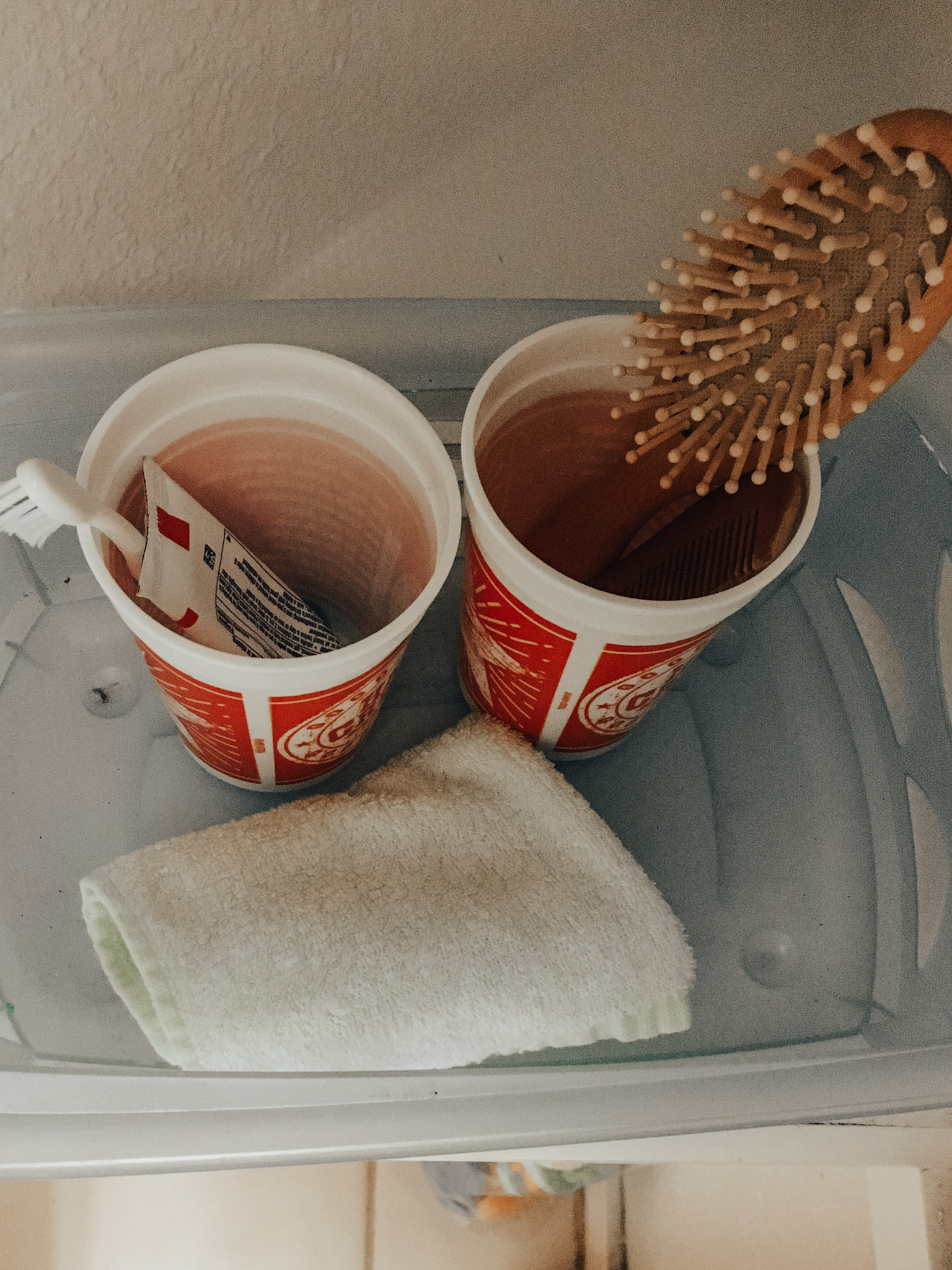 Infant Nursery (0-6 months)
Even newborns can have a prepared space for their emerging independence. We keep a basket of baby-friendly books next to the rocking chair and spend most of our time in front of the horizontal mirror.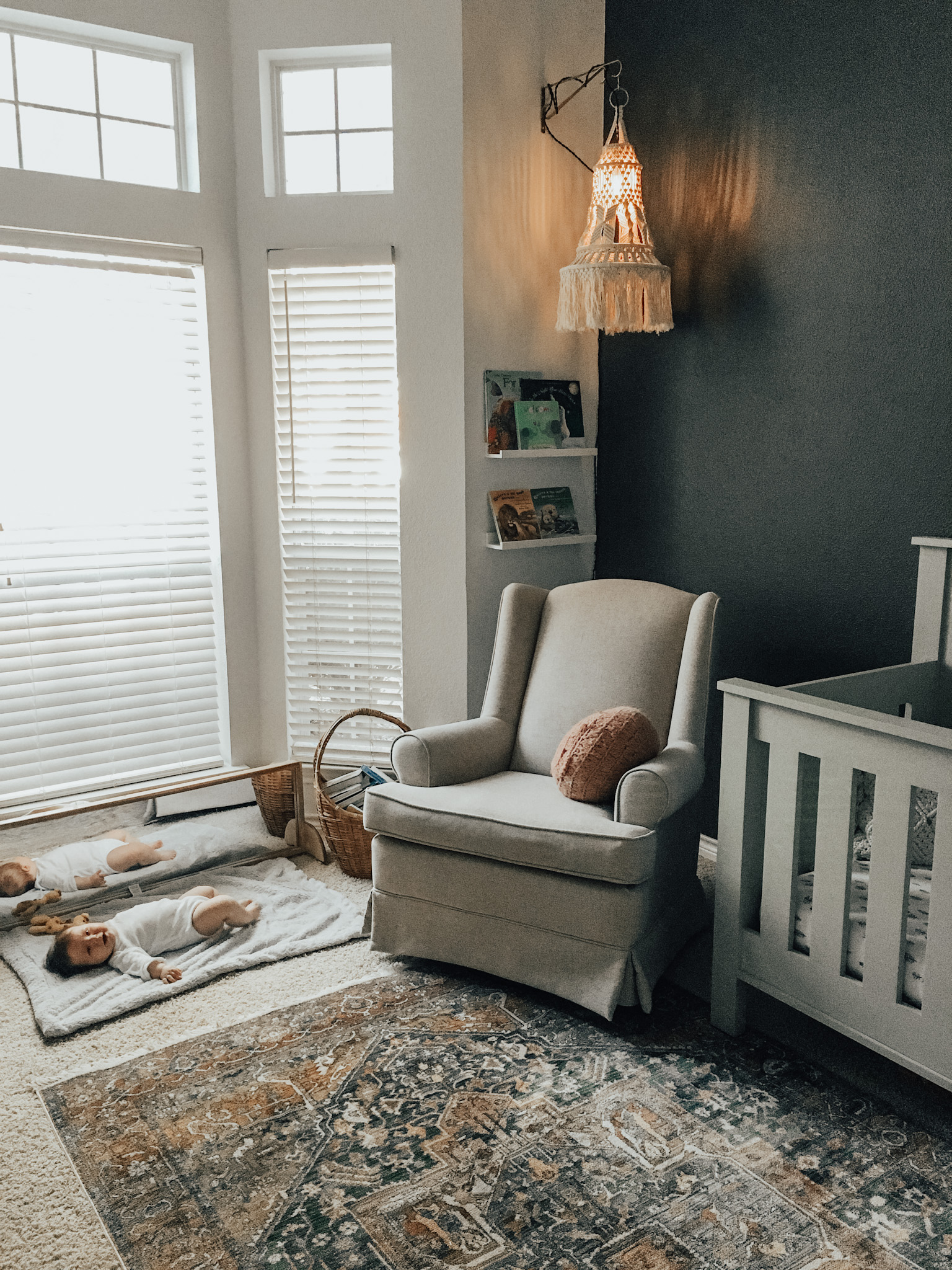 Tummy time is a wonderful way to promote your baby's independence, as it builds the muscle coordination and strength needed for major gross motor milestones such as rolling, sitting, and crawling. Having a horizontal mirror promotes concentration, visual tracking, and movement for infants. It also provides opportunities for free, independent, and uninterrupted play.
A play gym/mobile is great for promoting visual stimulation, motor development and coordination, attention, and early play skills. We began to use it around 2 months, but both kids didn't really love it until closer to 4 months.
Kitchen & Dining
The easiest way to foster child independence in the kitchen is to bring them up to the counter! Mealtimes are often stressful because the parent must cook while the child wants attention. When we introduced the learning tower, our meal prep instantly became more enjoyable! (He used to go crazy over an empty bowl and whisk.) Including our children in the kitchen offers them practice with important life skills they may not have otherwise. This step-stool is seriously one of my favorite things for kids! (You can make your own with these DIY learning towers!)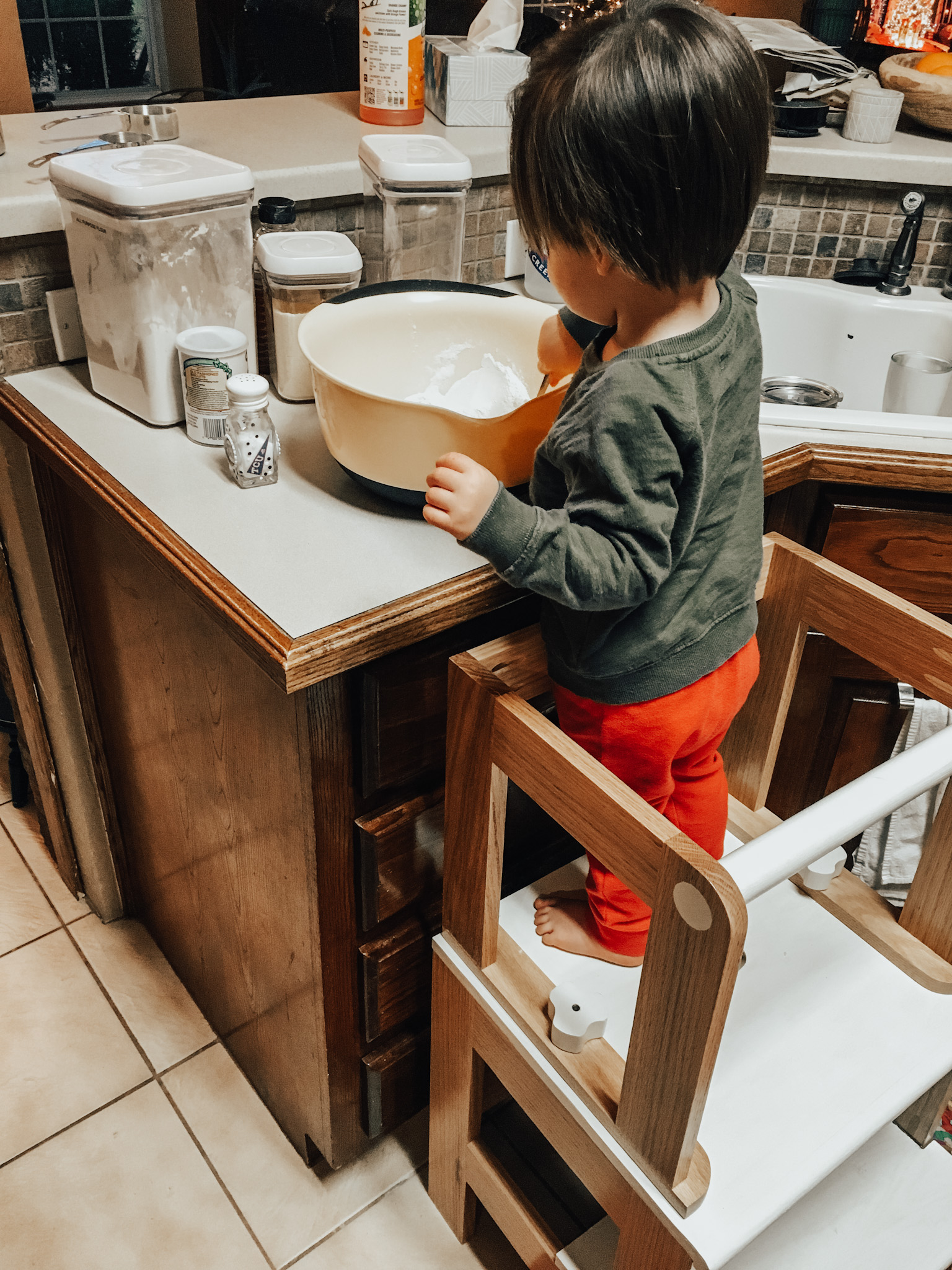 We used a bamboo shoe rack to set up this space in the dining area to offer independence for our son around 12 months. He was able to practice setting the table with his utensils, getting a drink of water, and wiping up spills as his motor and feeding skills progressed.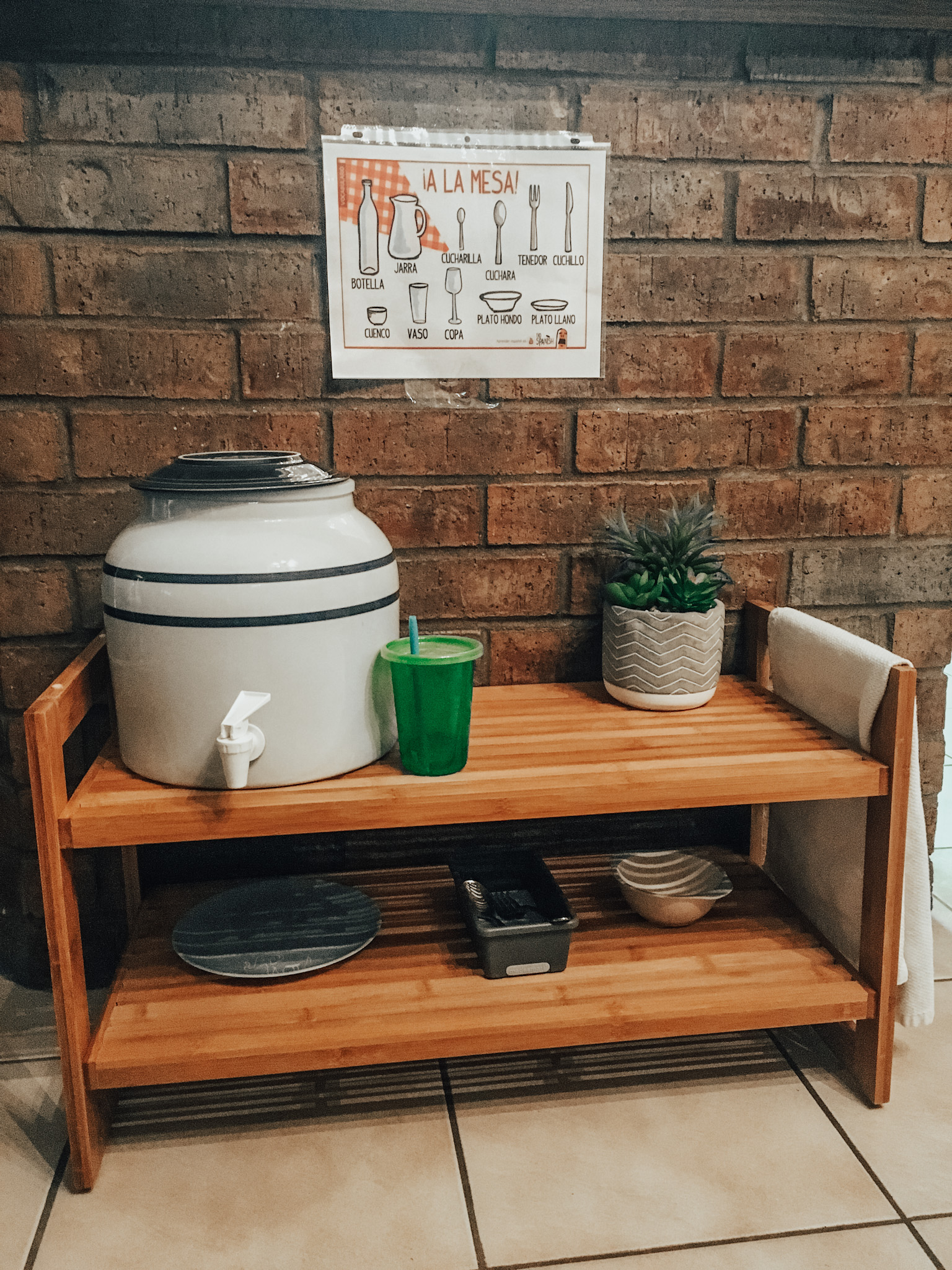 Now that he's older, he can reach the fridge to fill his cup. We've added a daily rhythm chart for him to reference and know what to expect throughout his week and his broom/mop stand to help clean messes.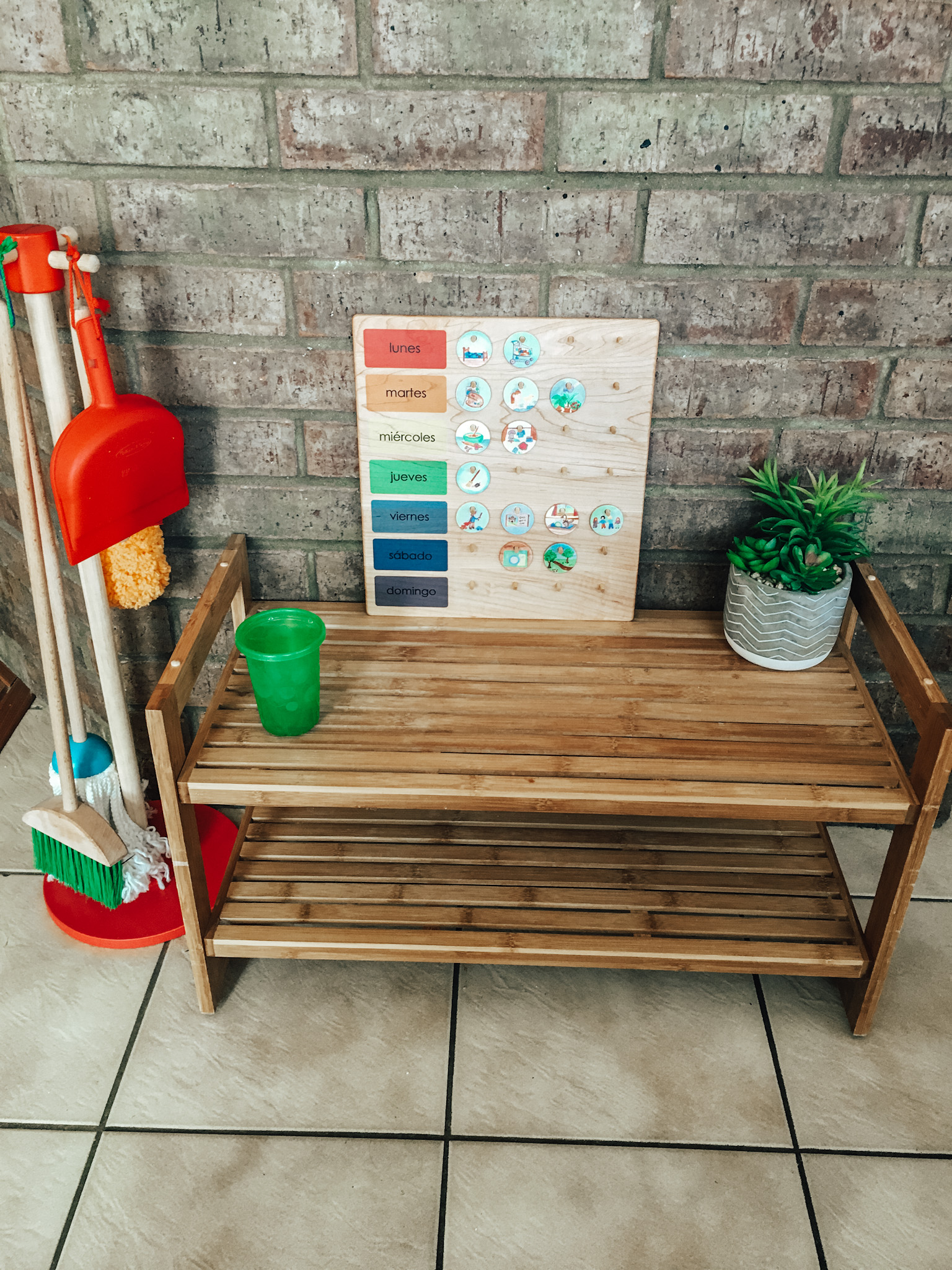 Even before we start offering solid foods to infants, we can begin preparing the kitchen by offering a supportive chair at the family table. I prefer the Stokke Tripp Trapp Chair, because it grows with the child –but it is a splurge. When looking for a high chair, look for one with a footplate. This provides the child with a supportive base and increases core strength. If your highchair does not have a footplate, you can make one by adding a stool, books, or boxes under the child's feet. You can also add an exercise band around the chair for the child to rest his feet.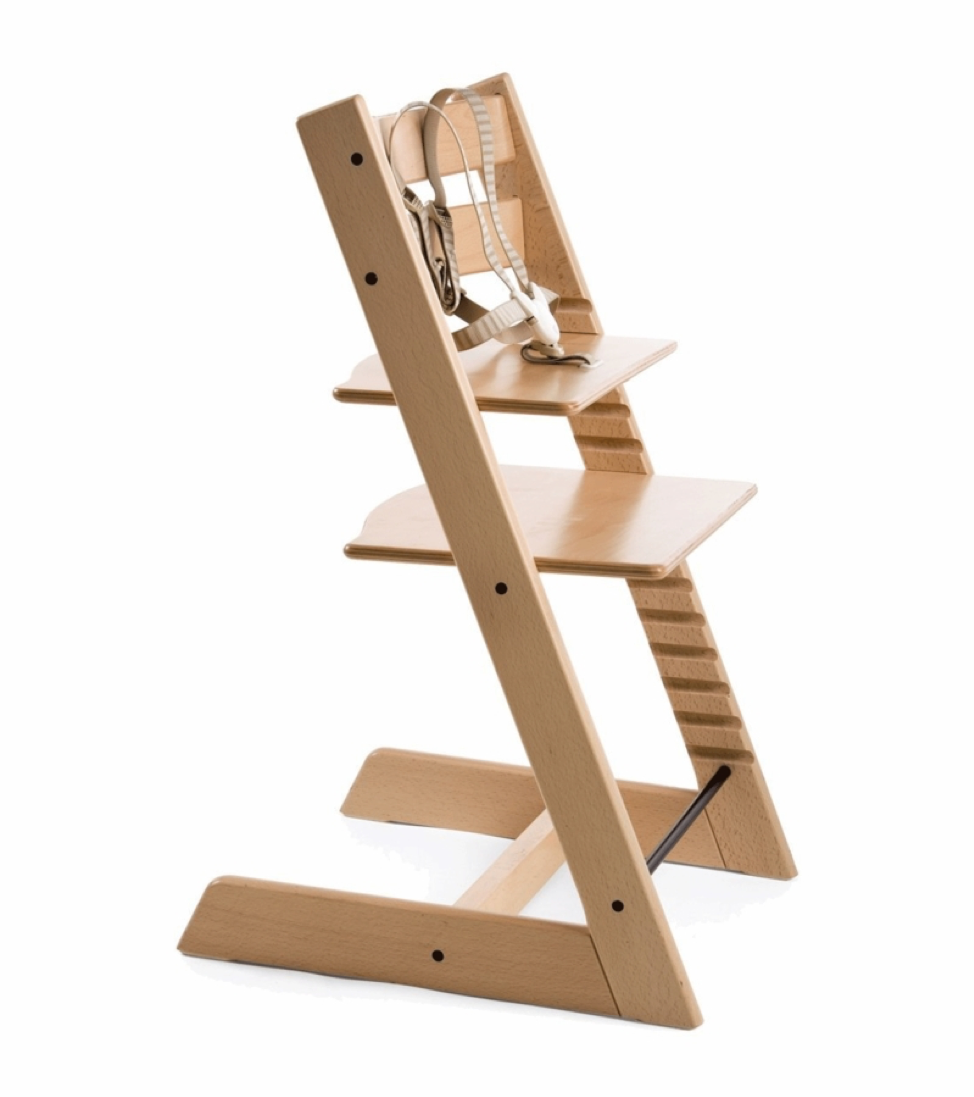 Toddler Play Space  
When we're not in the kitchen cooking, we're in this room learning and playing as a family! This is where the majority of our toys and books are presented in a Montessori-inspired way. I do rotate them out based on my toddler's interests and developmental phases about every two weeks. Above all, we try to keep it inviting and engaging by taking his perspective often and keeping his needs in mind.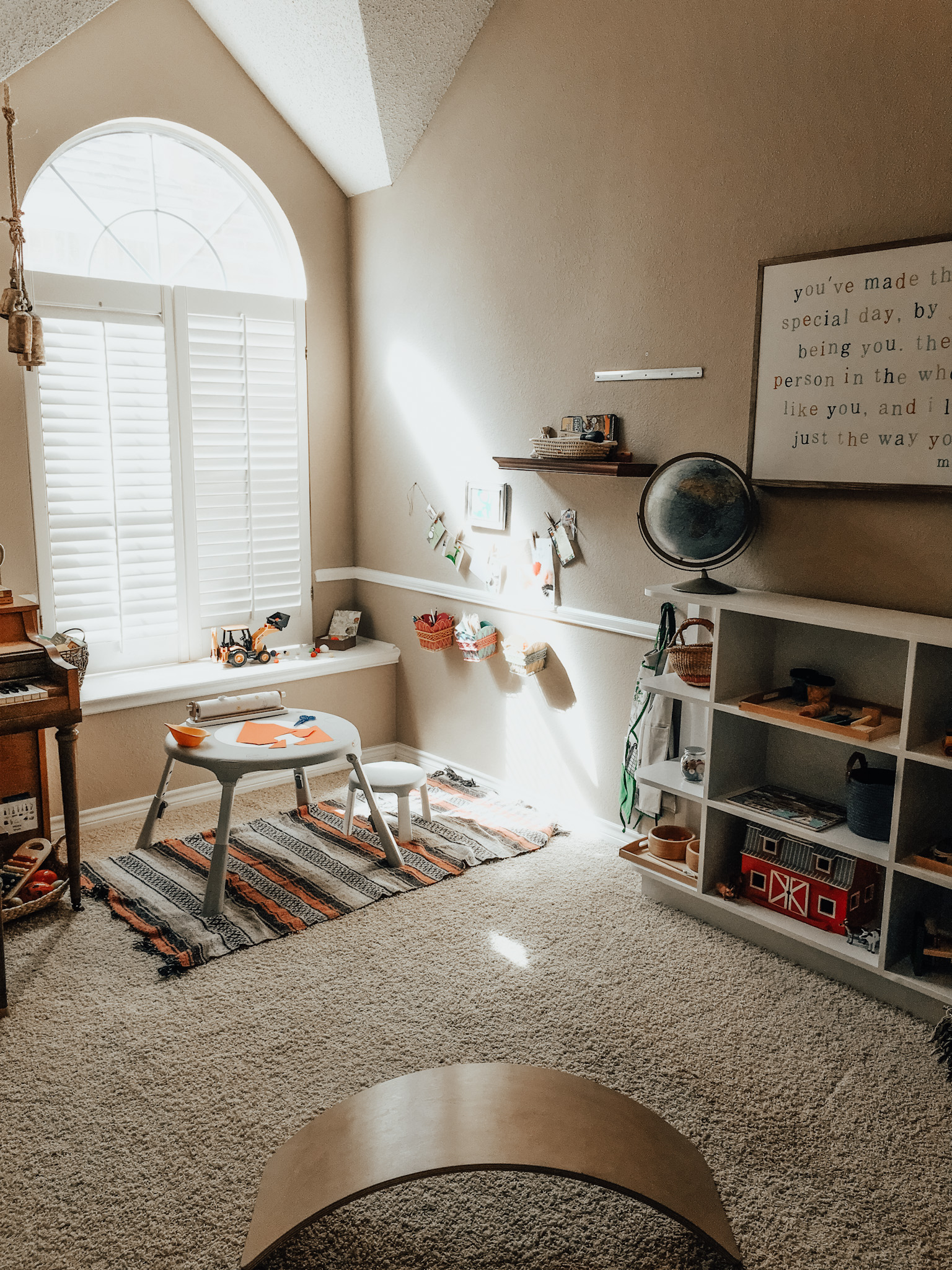 As I prepare this space for work and play with my toddler, I try to offer materials from 7 areas of development that leads to a language-enriched environment: music, block play, creative/making, pretend play, fine motor, gross motor, and literacy. These areas also target cognitive functions such as problem-solving, attention and concentration, logic and reasoning, coordination and processing.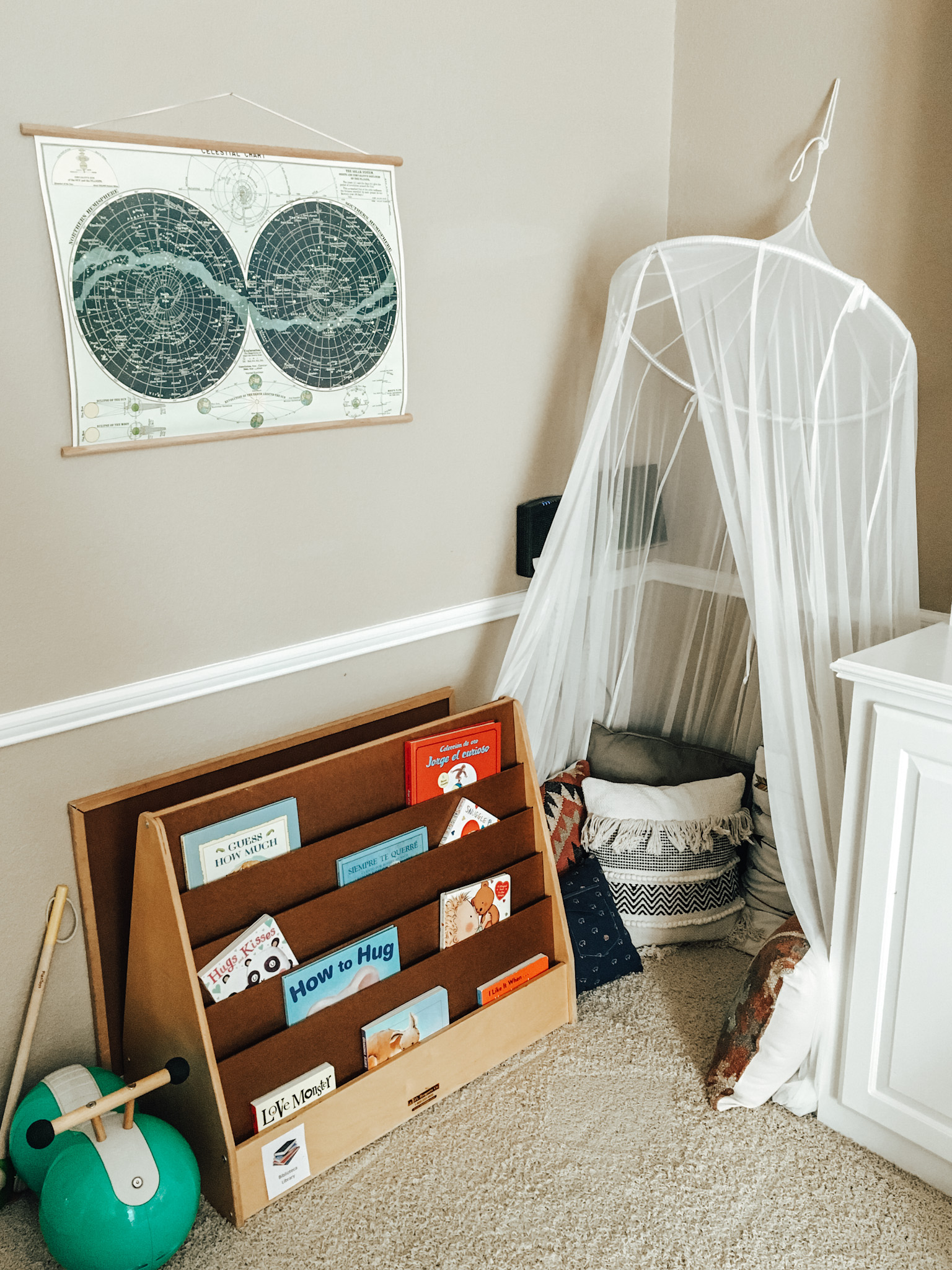 You can read more about how to prepare a play/work space and present toys in an engaging way for independent play.  COMING SOON!
I hope you enjoyed our home tour!  I truly believe all children, of any age, thrive when offered choice, freedom of movement, and autonomy to "do it myself." By setting up spaces with accessibility and independence in mind, children can feel confident, respected, and included.
Related Articles:
Why You Should Prepare Your Home for Child Independence